FOR IMMEDIATE RELEASE
Global solar leader achieves major milestone in MLPE deployment, driving 4 terawatt hours of clean energy generation while offsetting 3 million tons of CO2
JIAXING, China – [October 16, 2023] – APsystems, the global leader in multiplatform solar MLPE devices, proudly announces that it has achieved a significant milestone, surpassing 10 million interconnected units. These units represent the number of solar panels served by APsystems' MLPE products installed in markets worldwide. The cumulative impact of these installations is remarkable, with systems in the field having generated an astounding 4 terawatt hours (4 trillion watt-hours) of clean and renewable energy. This energy generation has made a significant contribution to mitigating climate change by eliminating or offsetting approximately 3 million tons of CO2 emissions that would typically be associated with the production of that energy.
APsystems' MLPE devices, including microinverters and APsmart rapid shutdown devices (RSDs), play a crucial role in enhancing the performance and safety of connected solar systems. By optimizing energy production at the panel level and enabling rapid shutdown capabilities, APsystems' MLPE technology has empowered system owners to achieve optimal energy harvest while adhering to stringent safety regulations.
"We are thrilled to reach this significant milestone of 10 million interconnected units and the substantial energy production it represents," said Dr. Zhi-min Ling, co-founder and chairman of APsystems. "The 4 terawatt hours of clean energy produced by our systems is a testament to the widespread adoption of our MLPE devices and their impact on global electrical generation. This achievement not only advances the transition to clean energy but also underscores our commitment to a sustainable future."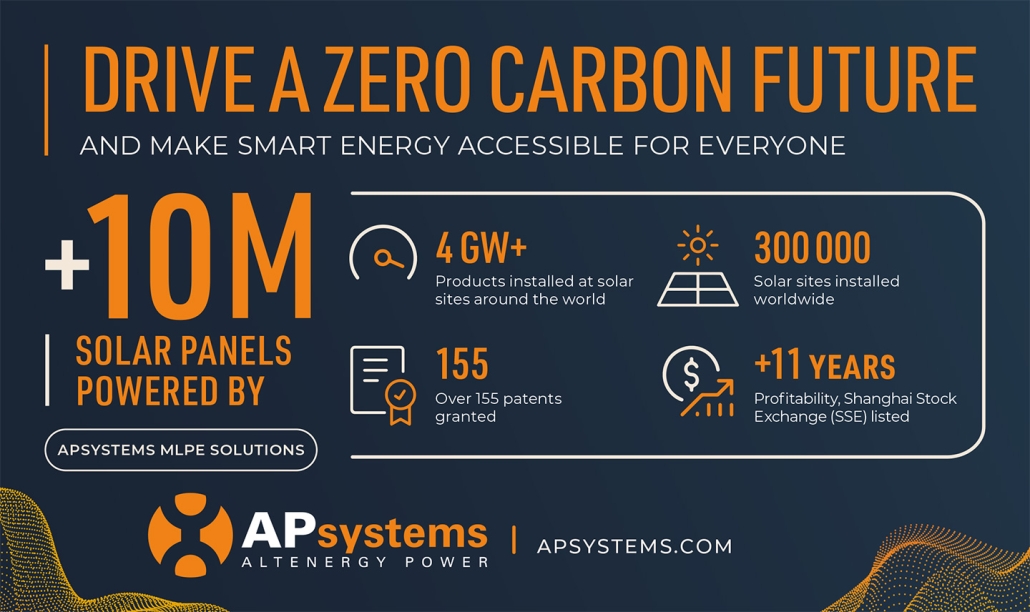 Olivier Jacques, APsystems President of global business units, added, "The accomplishment of offsetting approximately 3 million tons of CO2 emissions is a remarkable testament to the positive environmental impact of APsystems' MLPE solutions. By eliminating carbon emissions that would typically be associated with the production of 4 terawatt hours of energy, we are making a tangible difference in the fight against climate change. We are proud to be at the forefront of driving sustainability in the solar industry and enabling our customers to reduce their carbon footprint."
As APsystems continues to expand its presence in the global solar market, the company remains focused on pushing the boundaries of solar technology and delivering innovative solutions to address the ever-evolving needs of the industry. APsystems' commitment to excellence, combined with its extensive global reach and customer-centric approach, positions the company as a trusted partner for solar professionals and system owners worldwide.
https://apsystems.com/wp-content/uploads/2023/10/eng-APAC.jpg
856
1440
APsystems
https://apsystems.com/wp-content/uploads/2020/06/APsystems-logo-primary.png
APsystems
2023-10-16 17:38:24
2023-10-16 17:38:24
10 Million Solar Panels Served Worldwide with APsystems MLPE Devices