New 32-home San Antonio project powered by APsystems micros
When it comes to solar growth, it doesn't get much hotter than San Antonio.
The market ranked no. 6 nationally for metropolitan growth in 2015, and no. 7 for the spread of solar, setting the pace for the Lone Star State.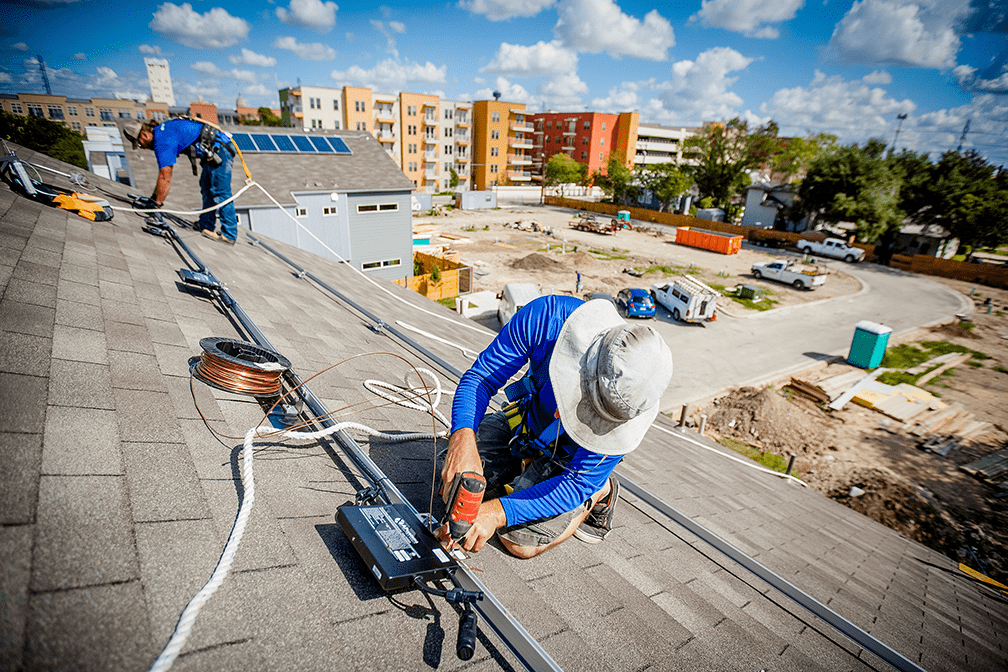 Those trends converge at 330 Clay Street, a 32-home planned-solar neighborhood by PSW Real Estate now underway in the San Antonio's arts and culture district, at the south edge of downtown.
Billed as "an oasis in the heart of the city," the New Urbanism-inspired project features geometrically distinct homes clustered around a winding pedestrian path and drought-friendly, native vegetation. The modern designs are stylish, with acute angles, dramatic roof slopes, and accents of corrugated metal and cedar.
Efficiency features abound, from eco-friendly siding to high-performance windows, tankless water systems with "smart" fixtures, and the latest heat-pump systems for indoor climate control. Sustainable, low-impact materials are used throughout.
Topping it off is solar, with a compact array designed onto every single roof.
Austin-based installer Lighthouse Solar is pairing APsystems YC500 dual-module microinverters with Phono Sun 310W modules. Capacity across the whole neighborhood will be about 73kW from 234 modules at buildout.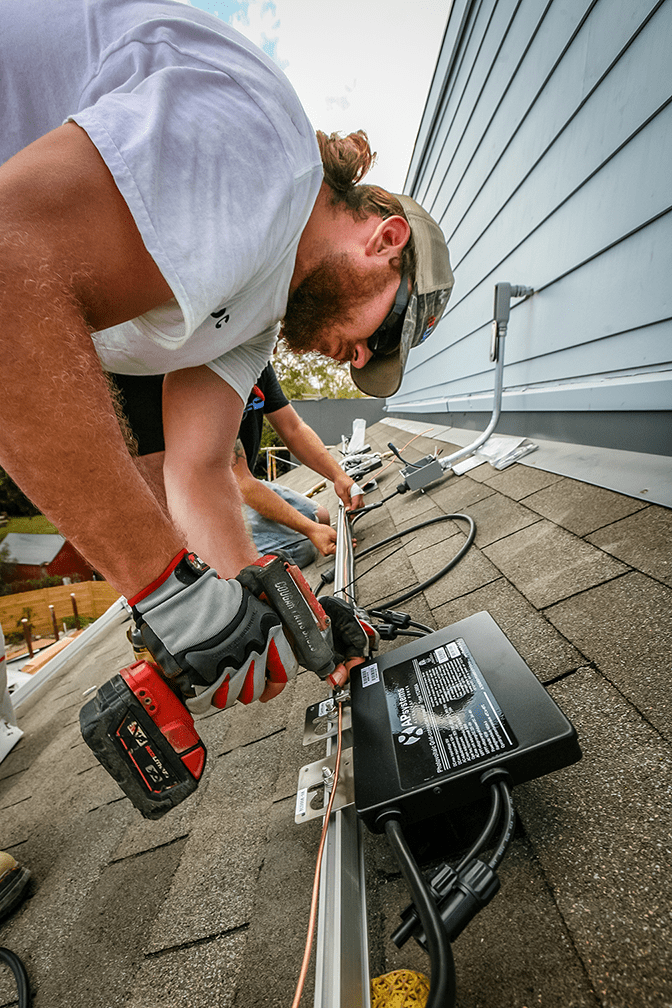 Lighthouse chose APsystems equipment on the recommendation of regional distributor The Power Store, said Burke Ruder, procurement manager.
The Lighthouse installation team found the dual-module microinverters made for a quick install, and less time on the roof under the punishing Texas sun.
"Pretty easy wire management – just plug n' play, man," said Josh Bernard, one of the three-man crew at Clay Street.
Elijah Zane Echeveste, PSW Real Estate sales consultant for San Antonio, said PSW has been including a solar component on its homes for about three years.
Individual arrays at 330 Clay Street are modest – seven or eight modules per roof – putting solar onto every home while keeping price points attractive to a range of buyers. Home start at $295,000 for 1,250-sf, two-bedroom unit.
The energy package is paying off in early interest from buyers.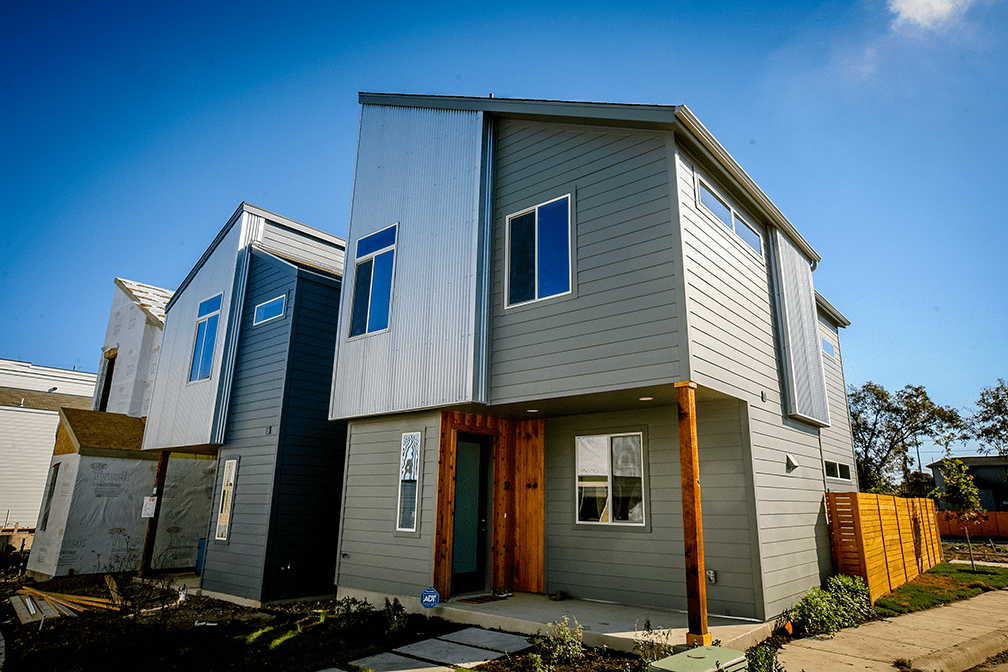 "Solar was important, and green-built was important," said David McDonald, 330 Clay Street's very first resident. On a recent afternoon, the expatriate Briton was taking delivery of appliances even as the half-finished neighborhood around him thrummed with the sounds of construction.
"We do a lot of green builds back in the Britain," McDonald said, "and this might be one of the first ones in San Antonio with the option of solar and all of the sort of 'green' things around the house."
Several other projects are also planned or underway in the corridor, including a sprawling former Lone Star brewery complex slated for mixed-use redevelopment on the banks of the San Antonio River.
The influx of stylish new residential and commercial development amplifies Southtown's reputation as the city's hot "bohemian" center for galleries, nightlife and culture.
"The area was important – we didn't want to go outside of downtown," McDonald said. "You can walk to all the restaurants and bars, even walk into downtown. We were the first to sign up, and it'll be a good investment for us."
The 330 Clay Street project reflects a fast-growing local solar market.
San Antonio is the top-ranked market in Texas, according to a recent report by Environment America. Solar capacity within the city limits jumped 23 percent year over year, from 88 megawatts to 108 megawatts – with significantly more capacity coming online in surrounding areas thanks to utility-scale solar farms.
About 207 megawatts were installed statewide in 2015, according to Environment Texas. Solar advocates credit a successful incentive program, which has fed consumer interest despite the state not having a net-metering law.
"Solar is an attractive feature for our buyers," said Echeveste of PSW. "One of the largest reasons is that the solar panels reduce cost in energy bills and also increase the value of the homes. There is an environmental responsibility aspect with buyers wanting to be a part of this."
https://apsystems.com/wp-content/uploads/2016/12/APsystems-Clay-Street3.png
672
1008
APsystems
https://apsystems.com/wp-content/uploads/2020/06/APsystems-logo-primary.png
APsystems
2016-11-19 20:30:52
2016-12-01 20:34:01
New 32-home San Antonio project powered by APsystems micros