APsystems estableció la nueva oficina y celebró la conferencia con usuarios
Recientemente, APsystems construyó la nueva oficina en México para apoyar con el servicio al cliente y el almacenamiento local. APsystems proporcionara a nuestros clientes los mejores productos y el mejor servicio. La dirección de nuestra oficina es Av. Lázaro Cárdenas  2850-5º Piso, Colonia Jardines del Bosque C.P. 44520, Guadalajara, Jalisco.

La conferencia de usuarios para América Latina se celebró hace un par de días.  La gente compartió sus puntos de vista para el mercado de México y las expectativas para 2017.
Los clientes están satisfechos con el rendimiento de nuestro micro inversor especialmente por el servicio local, incluyendo la formación técnica regular, el almacenamiento local y el servicio post-venta.
Durante la conferencia, nuestro CMO de APsystems, vice presidente Wesley Tong otorgó a tres distribuidores la distinción de "Distribuidor de Oro"y "Distribuidor Plata". APsystems aprecia sinceramente sus grandes esfuerzos y contribuciones para ayudar a expandir el mercado latinoamericano. Para estos tres grandes distribuidores que son STI, Greenergy y Sunnergy.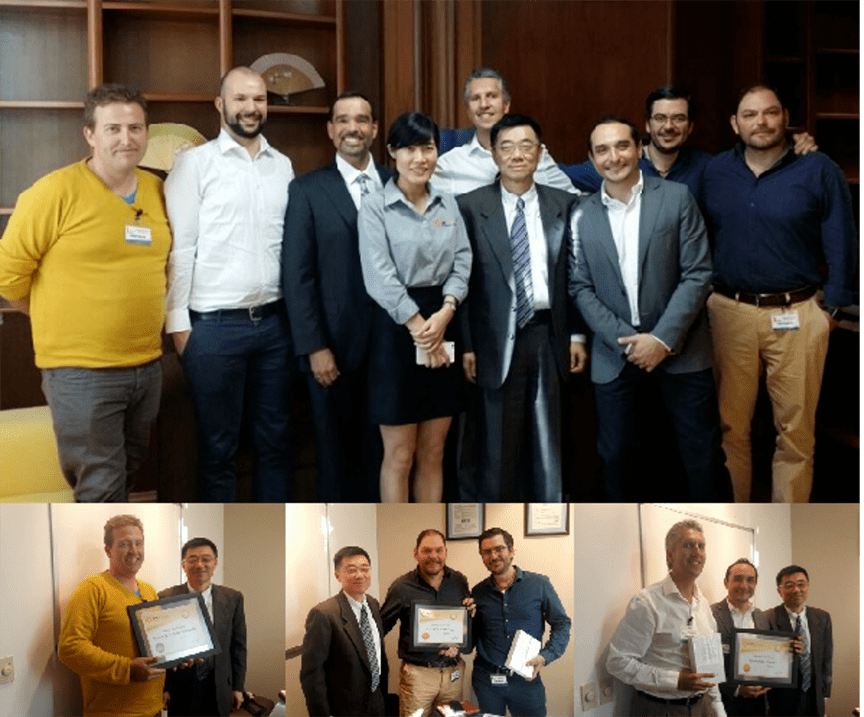 APsystems agradece a estos distribuidores de oro por su asociación para hacer de APsystems un líder mundial en tecnología de micro inversores. Como APsystems, son apasionados por la energía solar y avanzar en un futuro de energía limpia y renovable.
A principios del 2013, APsystems entró en el mercado de México con el YC500 especializado y hecho para México. Con la capacidad de producción de 500,000 unidades por año, ahora APsystems es la marca de micro inversor NO.1 en el mercado de México. Esperamos un futuro brillante con estos sobresalientes socios solares.
________________
APsystems establishes new sales, service office in Guadalajara
APsystems has established a new office in Guadalajara, Mexico, to support regional sales, distribution and service.
The new office address is AV. Lazaro Cardenas 2850-5º Piso, Colonia Jardines del Bosque C.P. 44520, Guadalajara, Jalisco.
APsystems marked the expanded regional presence with a user conference for solar professionals, as participants discussed the Mexico market and expectations for 2017.
APsystems earned praise from regional distributors and installers for microinverter performance, technical training, order fulfillment and after-sales service.
Three vendors were honored with "Golden Distributor" and "Silver Distributor" awards during the conference.
The firms STI, Greenergy and Sunnergy were honored by Wesley Tong, APsystems vice president, for their success in expanding the Latin America solar market.
Tong thanked the Golden and Silver distributors for their partnership in making APsystems a global leader in microinverter technology, and their passion for solar power and advancing a clean, renewable energy future.
APsystems entered the Mexico market in early 2013 with a specially configured version of the top-selling YC500 microinverter.
https://apsystems.com/wp-content/uploads/2017/01/New-office-2016-spanish-2.png
717
864
APsystems
https://apsystems.com/wp-content/uploads/2020/06/APsystems-logo-primary.png
APsystems
2017-01-03 17:49:58
2017-01-13 22:35:09
APsystems estableció la nueva oficina y celebró la conferencia con usuarios