APS distributor Blue Frog Solar featured on local business journal
APS distributor Blue Frog Solar of Poulsbo, WA, and its Simple Solar program got some great press this week with an in-depth feature in the Kitsap Peninsula Business Journal.
The KPBJ gives a comprehensive look at the incentives that make Washington solar such a great deal — and Simple Solar, which makes it easier than ever to make the move to energy self-sufficiency. It's a great move for both existing homes and new construction.
As the Business Journal notes:
Blue Frog is collaborating on the largest residential solar project in Kitsap County — Bainbridge Island's Grow Community, a project of real estate development and investment firm Asani. It's an example of effectively designing and building homes to accommodate rooftop solar panels.
"We knew from the outset that our goal was to create a net-zero community using solar," says Marja Preston, senior director of development at Asani and owner of a solar home at Grow. "So everything there was designed, including the apartments, so we could get enough solar panels on the roof to provide all the energy needed for the homeowner."
Blue Frog's Simple Solar program and partner installer A&R Solar of Seattle count on advanced microinverter technology from APS in all installations — including Grow Community, now the largest planed solar development in Washington state.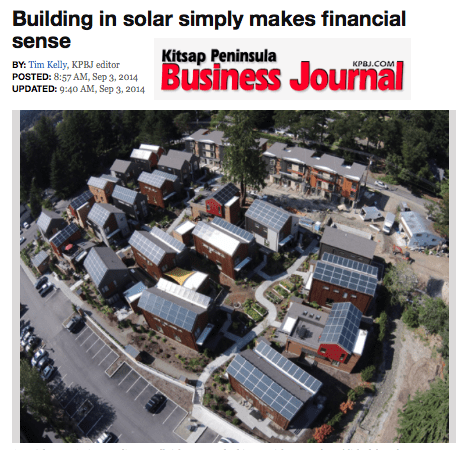 https://apsystems.com/wp-content/uploads/2014/09/Unknown.png
450
469
APsystems
https://apsystems.com/wp-content/uploads/2020/06/APsystems-logo-primary.png
APsystems
2014-09-07 15:49:55
2015-07-30 20:32:19
APS distributor Blue Frog Solar featured on local business journal